Metal
Meets
2022
The new CSX micro-9 brings the feel of all-metal and 12+1 capacity. Our flat faced trigger ensures consistent finger placement for accuracy and repeatability.CSX - the ultimate in everyday carry.
FUNCTIONALITY
AMBIDEXTROUS


THUMB SAFETY

The innovative design incorporates external safeties that are pinned to the grip. These steel ambidextrous safeties hinge beneath the hammer and allow for positive engagement for different hand sizes and shooting grips.
AMBIDEXTROUS


SLIDE STOP

Offering truly ambidextrous slide stop controls the CSX™ features a steel slide stop accessible to both right and left-handed users. The low profile ridge design allows for easy activation into the locked position while tactile grooves along the top ridge make for efficient deactivation.
SINGLE ACTION


EXTERNAL HAMMER

The single action CSX™ pistol features an external hammer providing a crisp and consistent trigger press each time. Visual and physical control of the hammer offers additional confidence for concealed carry especially while reholstering.
FLAT FACED TRIGGER
A highly desired flat-faced trigger incorporates a trigger safety that extends fully across the face of the trigger for a consistent feel. The trigger safety, combined with an internal firing pin block and ambidextrous thumb safeties, incorporate safety features without sacrificing a crisp, clean trigger break.
ERGONOMICS
TOP OF SLIDE SERRATIONS
The CSX strategically places serrations on the slide to enhance the users ability to manipulate and use our handgun. Serrations at the top of the slide reduce glare when trying to acquire a sight picture in bright conditions.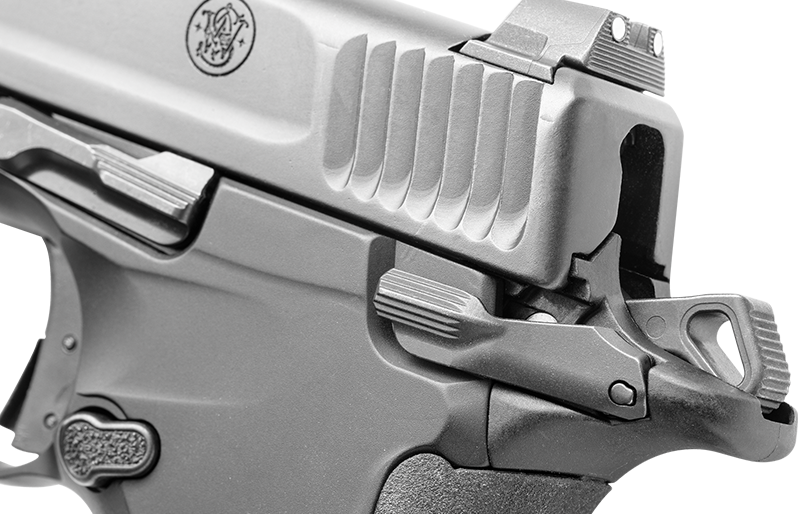 SLIDE SERRATIONS
The rear slide serrations feature a flared design to allow for a better grip and easier slide manipulation.
LEFT OR RIGHT HAND


MAGAZINE RELEASE

Fit and feel are critical on a concealed carry handgun, and the CSX brings "big gun" ergonomics to the category. Not only can you change to either a left or right hand magazine release, but you have the ability to change backstraps as well. Each CSX comes with two interchangeable backstraps to allow the user to adjust to their hand size or if they want to fit their concealment needs.
INTERCHANGEABLE


BACKSTRAPS

The standard backstrap is larger and fills the hand to aid with recoil management. The second backstrap is reduced in size for those with smaller hands or those who desire a lower profile for deeper concealment.
FUNCTIONALITY
Model:
CSX™
SKU:
12615
Frame Size:
Micro-Compact
Caliber:
9mm Luger
Action:
Single Action
Capacity:
12+1 and 10+1 Rounds
Barrel Length:
3.1˝ (7.9 cm)
Rifling:
1:10 RH
Front Sight:
Metal White Dot
Rear Sight:
Metal White 2-Dot
Frame Width:
1.12˝ (2.8 cm) with Controls
1.01˝ (2.6 cm) without Controls
Overall Height:
4.6˝ (11.7 cm)
Overall Length:
6.1˝ (15.5 cm)
Sight Radius:
4.6˝ (11.7 cm)
Grip:
Interchangeable Backstraps
Weight:
19.5 oz. (552.8 g) - 12 Round Mag
Magazine Weight:
2.4 oz. (68.0 g) - 12 Round Mag
Barrel Material:
Stainless Steel with Armornite® Finish
Slide Material:
Stainless Steel with Armornite® Finish
Slide Finish:
Matte Black
Frame Material:
Aluminum Alloy
Frame Finish:
Matte Black
UPC Code:
022188885200